Where comfort meets sustainability
Starting at just $119 950
The design creates a seamless connection between the indoors and outdoors
With its innovative design and attention to detail, the Ethos is the perfect solution for families or individuals looking for a compact and efficient ecopod that still offers the amenities and comfort of a traditional home with its two rooms, full kitchen, salon, and outdoor patio, all within a 450 sq ft area.
Two floors of luxury living in the heart of nature
Living in the Ethos is a unique experience, with its two-floor design and spacious layout. The large windows let in an abundance of natural light, providing breathtaking views of the surrounding landscape. With two spacious rooms, the Ethos offers plenty of living space for families or couples.
The ground floor features two bedrooms, offering privacy and comfort for all residents. The upper level features open-concept design, with a full kitchen and a living area that opens onto a patio, perfect for enjoying the fresh air and beautiful scenery.
Where modern architecture
meets eco-conscious living
The architecture of the Ethos ecopod is truly avant-garde, blending cutting-edge design with sustainable materials to create a modern living space that is as functional as it is beautiful. The two-floor structure offers unparalleled flexibility and customization, with plenty of space for families or those who desire more room for their living and workspaces.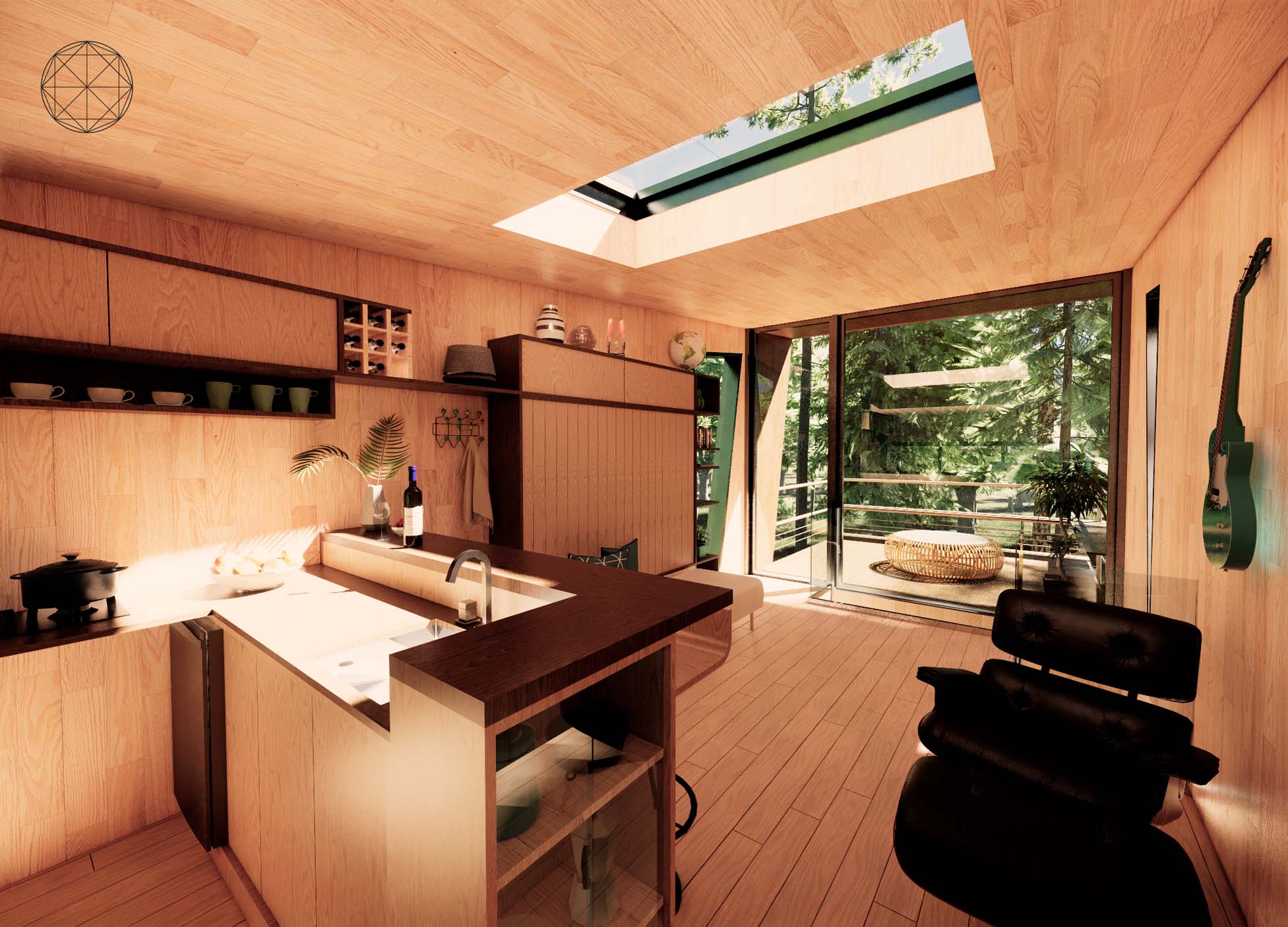 Eco-friendly and healthy, the BES structure of the Ethos is also energy-efficient. With its high level of insulation, it keeps your home at a comfortable temperature year-round, reducing your energy consumption and costs. This innovative system offers a zero waste production process, faster construction time, and high levels of insulation, making it an ideal choice for eco-conscious homeowners. It also promotes a healthy living environment, with no VOCs (Volatile Organic Compounds) and superior air quality. This ensures that you and your family can breathe easy, without any harmful pollutants or toxins.
Balance of comfort, beauty, and sustainability.
The two floors of the Ethos can be easily adapted to suit your unique needs, with the optional custom kitchen modules that come equipped with necessary facilities and appliances. You can also choose between composting or incinerating toilets, and the bathroom module comes with a shower and sink to provide a comfortable and convenient way to stay clean. With the Murphy bed and sofa module, you'll have the flexibility to choose from different sleeping and seating options, making the Ethos an ideal choice for all your needs.