After installing its first Kujuk in 2022, Constellations delivered its first two Tenji on December 23.
The news requires decoding.
Constellations designs and manufactures autonomous, self-sufficient and eco-responsible micro-dwellings, which can be placed in nature. Ecopods, they say.
Two days before Christmas, the very young company from Lachute delivered to the Terra Perma ecotourism center the first two of four copies of its Tenji model, an elegant 120 to 200 sq. sink, kitchen, etc.) are carefully integrated and harmonized with the construction. Toilet and shower are optional.
Terra Perma is considering the creation of a set of 24 similar units in its vast Laurentian park.
L'inspiration
Constellations was founded in May 2021 by François Turgeon and his associates to realize his vision of small autonomous oases.
Its two Kujuk prototypes, comfortable refuges for ecotourism, were delivered to the town of Brownsburg-Chatham during the first half of 2022.
"It is a non-permanent structure, describes the president. There are no foundations. You can put it on skis to move it or place it on stakes. »
Its configuration in triangular facets is inspired by "sacred geometry" and mandalas, these colorful diagrams intended for meditation in the Buddhist tradition.
"I am a musician by training, explains François Turgeon. I studied jazz with Michel Donato and I studied classical music. So, I've always liked geometry, I've always liked harmony, I've always been attached to details. »
A one-man band, indeed.
The 45-year-old entrepreneur has worked in publishing, was a multimedia producer, artistic director at Sun Youth, founder in the early 2000s of a pioneering company in digital library loans. He was also a hatha yoga teacher.
"I am passionate, I like to create," he summarizes.
He expanded his range of self-taught skills in the mid-2010s in a lengthy cottage renovation project, where he met joiner-carpenter Robert Rondeau, now Production Manager at Constellations.
Taken by a sudden passion for architecture and construction, he began to put on paper ideas for small havens of inspired proportions.
During the pandemic, he met a young HEC Montréal graduate from Brazil, Gaëtan Serrigny, who joined him in laying the foundations for his foundationless micro-housing business.
Together they sketched this polyhedron with triangular faces which became the prototype of the Kujuk. Its careful interior layout, which conforms to the exterior facets, gives the impression of residing inside a wooden diamond.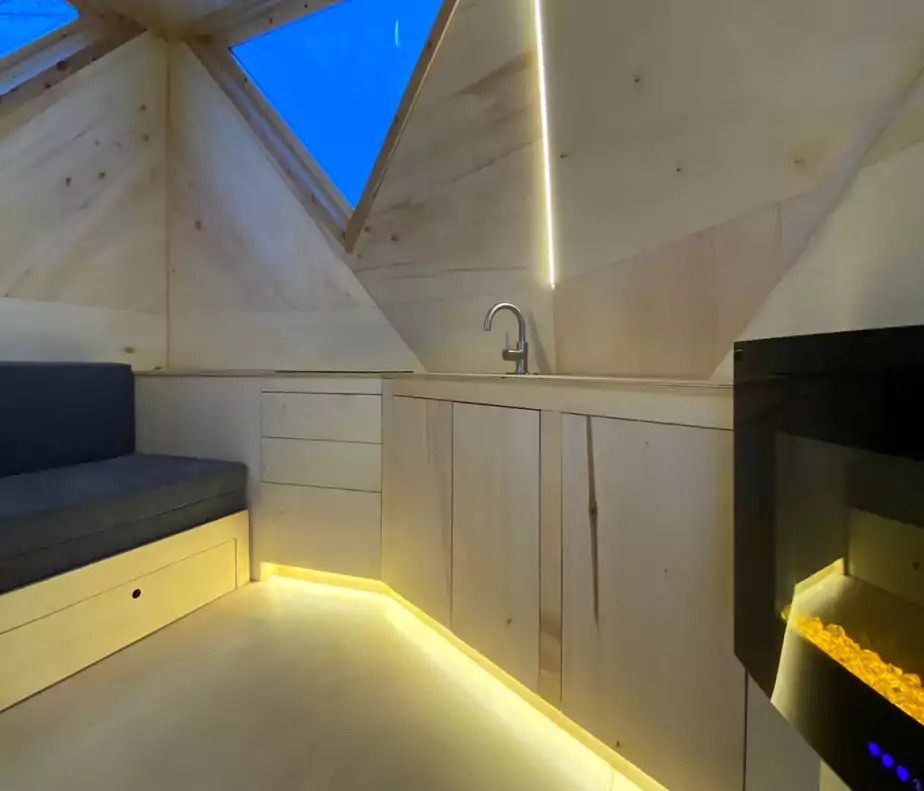 "Why the triangles? The user experience is quite exceptional, argues François Turgeon. But what is also interesting is that the angle of the walls improves solar absorption. The structure can be warmed naturally because the walls are not straight, but slightly angled. »
A lawyer friend sympathetic to his cause – "I just have friends who meditate around me" – offered to help him incorporate his business if he found an accelerator for his fledgling business.
"With Gaëtan, we found an incubator called Esplanade Québec. »
A first private investor, Mikulas Arendas, himself a self-builder, was won over by his contagious enthusiasm. In turn, the architect Alfonso Arzapalo added a floor to the building of their skills.
"Our basic concept is that not only do we want to do sacred geometry, but we also want to develop initiatives in the revitalization of residual materials," underlines the entrepreneur.
Awareness
It had to be agreed: sacred geometry led to sacred geometry problems.
"We realized that innovative architecture using triangles is beautiful, but it's complicated. »
The models that followed the Kujuk prototypes were designed based on rectangles.
"You also have to make the dream profitable," he agrees. But the beauty, however, is that we are aware of the learning curve. »
A curve now in right angles.
As evidenced by their new 2023 catalog, François Turgeon and his partners have designed a complete range of units of different volumes, which can be combined to form homes of various sizes.
He hopes that Constellations will thus facilitate access to private property.
A municipality in the Laurentians has already shown interest.
Move
Constellations employs eight full-time people, plus half a dozen contract consultants.
This local production is currently done in a small room: a workshop of barely 3000 ft⁠2.
Supported by the MRC d'Argenteuil, François Turgeon plans to move shortly to a 20,000 sq. ft. factory located in the Synercité industrial center, which is dedicated to the circular economy around the major Tricentris sorting center. "Knock on wood," he says appropriately, as the phone resonates with the knock-knock of a double knock on a material that is probably woody.
With the help of Synercité's new circular economy center of expertise and innovation Synerlab, he hopes to set up a production system for structural panels within the next three to five years, from a paste made up of various recycled materials, in a way analogous to 3D printing.
Article By Marc Tison, Lapresse