To win : 2 nights for 2 people in the heart of nature! (Value of $350!!)
Where ?  In an unusual accommodation made by Constellations
But more precisely? At Terra Perma, an eco-tourism and permaculture center in the heart of the Laurentians with a magnificent lake!
When : July 2023
More details here:
Are you ready for an unforgettable weekend in unique, eco-responsible accommodation? Constellations Innovative Spaces, a startup based in the Laurentians, has partnered with Terra Perma, a renowned tourist destination in Harrington, Quebec, to offer you the chance to win a great weekend in one of their Tenji Mini ecopods!
Constellations is dedicated to creating innovative, eco-friendly, prefabricated spaces for an immersive nature experience. The Constellations ecopods are distinguished, among other things, by their integrated interior design, minimalism and practicality. As the winner of the Osentreprendre competition in the exploitation, transformation and production, Constellations is at the forefront of eco-housing solutions, perfect for those who value sustainability and innovation in their homes.
Terra Perma is also no stranger to unique and immersive accommodations. With over 800 acres of breathtaking nature, Terra Perma offers a wide range of tiny houses and original accommodations, including one of the tallest treehouses to sleep in, an Earthship-style cabin, yurts, etc. As a pioneer of glamping experiences in Quebec, Terra Perma promises a unique stay in harmony with nature.
Terra Perma
https://terraperma.ca/
Address: 218 Chem. White, Harrington, QC J8G 2T3
Phone: (514) 291-6368
Province: Quebec
So here's your chance to win a weekend in a Constellations Tenji Mini ecopod at Terra Perma during the month of July!
(Instagram) To enter the contest, all you have to do is follow:
1) Follow @terraperma and @constellationshouse
2) Like this post
3) Share in Story
4) Tag someone you would like to share this experience with
5) Fill out the form below.
Don't miss this opportunity to experience the best in sustainable and innovative accommodation in the beautiful paradise of Terra Perma.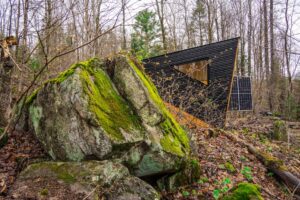 Imagine waking up to birdsong, breathing in the fresh forest air and enjoying the tranquility of nature from the comfort of your Tenji Mini ecopod. It's a weekend you won't forget, and it could be yours just by entering the contest. Don't wait any longer, subscribe now for a chance to win!
We look forward to welcoming you for an unforgettable weekend surrounded by nature. Good luck!
Note: This contest is only open for a limited time, so be sure to enter before the June 20 deadline. Terms and conditions apply. Please visit the contest website [insert website] for more details.